コトバ、スクナイ、ツタエタイ。 モノ、アツメル、シンカスル。
The Birth of Mankind
SRP
2,800 yen (tax included)
Background
This is a cooperative game in which you, the ape-man Ardipictus Ramidas, survive the devastation of Africa by evolving.
Four million years ago, Africa was getting drier and colder and more and more devastated, and it was a very difficult time.
Will you be able to survive in these difficult times?
Outline of the Rules
Since you all are ape-man Aldipictes Ramidas, "Umba!" I can only say a few words, such as
As the game progresses, you'll learn the words little by little. Let's make full use of it to communicate and cooperate to collect things (resources).
When the three cards in your hand are all the same, you can say, "Yoww!" It evolves in this way.
They evolve from the ape-man Aldipictus Lamidas to the ape-man Australopithecus Aphalensis, then to the proto-human Homo erectus, and finally, if they evolve to the newcomer Homo sapiens, they all win.
Let's tell what you have and deduce what your friends have by making full use of unfriendly words.
And let's evolve by exchanging well with everyone and getting things in order.
We hope you enjoy this magical sense of play.
Artwork
Miho Midorikawa was appointed as an illustrator. He is active mainly in drawing pictures for trading card games such as Magic the Gathering.
​He's also published a book called "The Monster Design Book, Created from Animals.
​This time, I drew an illustration of apes and other animals and plants that would have been native to Africa 4 million years ago. I hope you will also enjoy the beautiful pictures.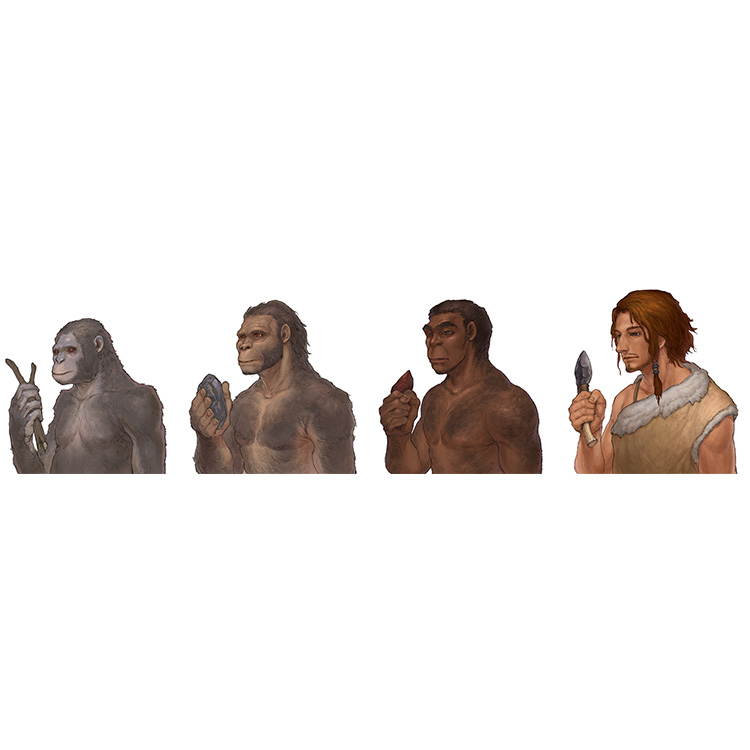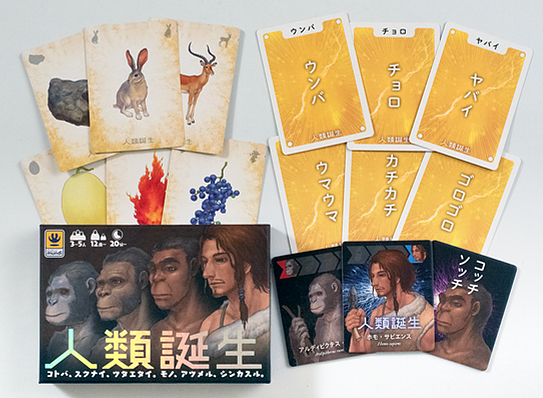 Product Outline
| | |
| --- | --- |
| Product Name | The Birth of Mankind |
| Mechanics | Set Collection, Communication |
| Number of players | 2 to 5 |
| Play time | 20 min. |
| Target age | 12 years and up |
| Production | Studio Mundi |
| Release date | April 25, 2020 |
| Suggested retail price | 2,800 yen (tax included) |
Contents
| | |
| --- | --- |
| Kotoba cards | 19 cards |
| Mono card | 48 cards |
| Summary cards | 5 |
| Evolutionary tiles | 3 |
| Manual | 1 |
| Ice break instruction manual | 1 copy |
Game Design: Hiroyuki Sada-Matsuyuki
Character Design: Miho Midorikawa
Graphic Design: Kamibayashi