A board game in which five races compete for supremacy over a continent.

Humans, dragons, elves, slimes and aliens! A board game in which five unique races compete for supremacy over a continent. Use your people to invade, drive out the other races, and get resources. Sometimes we diplomatize and use our resources to expand our power, and if we build four strongholds, we win!
Number of Players
2 to 5 people
Estimate Time
30 to 45 min
Lead five unique races and take control of this land.An authentic medium-weight Euro game that can be played in 45 minutes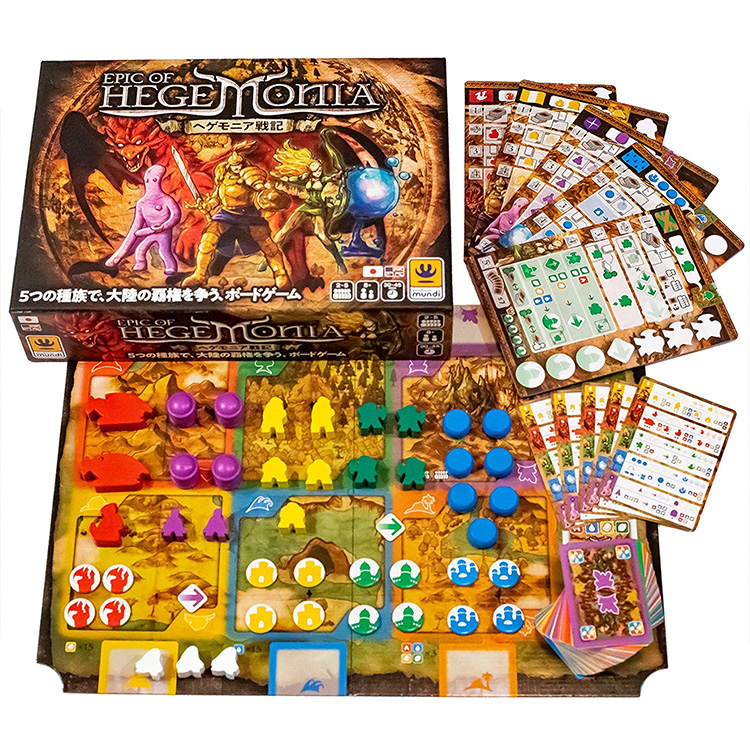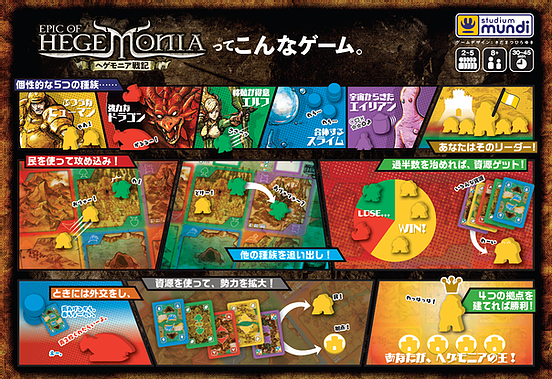 Background
This is the war story of the races that vied for supremacy over the land called Hegemonia.
Your goal is to become the leader of the tribe and gain hegemony over the Hegemonians.
Lead your people, drive out other races, gather resources, expand your power.
Let's finally make a name for ourselves in history by becoming the king of the Hegemonians.
System Overview
The race with the majority power gets the resources.
Area Majority with five competing races.
While most games have a normal area majority, this game has a unique system of single majority that moves the panels.
This will not only dynamically change the board surface, but also
It has a relatively light sense of play and is enjoyable.
Beautiful graphics!
Hirata Ryo was appointed as the character designer. In addition, graphic designer Kamibayashi's colors and gorgeous components allow you to immerse yourself in the world more. The wood peace will also become an original peace instead of an existing panel, making it even more fun to play.
The Phantom
It's a three-player frame called Phantom. This is a mysterious race that belongs to no one! If this tribe gets a majority, the resources of the land will disappear. Putting this in made it possible for even three people to have a dense battle! 
<Detailed rules>.
Initial placement: Place one phantom at each location of each base (3 in total)
Rule 1: Phantoms can be expelled.
Rule 2: The phantom power is 1.
Rule 3: If the Phantom gets the majority, the land's resources will be discarded. 
A version that is now 10 different clans is on Kickstarter, starting Oct. 21, and we need your support!
Additional kits are available!